It's Josefine here, I'm super "eeeek-cited" about the Going Batty release!! Halloween is my favorite holiday and if I have an addiction, then it's for Halloween stamps. 😉 This set has everything – cute, spooky, whimsical images and fonts. There are just so many options for using these sets. For my guest post, I decided to make some treat bags, mixed media style.
I started by applying Gesso to a little bag that I got in a paper supply store. Then I created a stencil with the "Who's There?" cover plate. I used thick water color paper to make sure that it lasts a little while. I picked a few creepy colors of acrylic paint – a poisonous green, a squeaky orange and a witch-tastic purple- and applied these randomly through the eyes till the bag was covered.
Now I added a sentiment to the middle of the bag. Because the bag is all bumpy, I decided to stamp it using a Misti. Make sure to let the Midnight ink dry a little longer than normal when stamping on top of acrylic paint. I also added the little spider from the "Everything but the Broom" set and the spider web.
For the second bag, I decided to paint up the "Going Batty" background stamp with a bright orange and stamped that onto the black colored bag. The little sentiments from the "Spooky Halloween" set was the perfect addition, as well as a few more of the small bats – all stamped in white pigment ink.
Bag number 3 was colored entirely in black. Then I brayered green paint onto the "Spider Web" background stamp and stamped that onto the bag.
The easiest way, I think, is to open up the bag and carefully press it down onto the stamp. The little spider from the "Everything but the Broom" set fits perfectly as a finishing touch.
Now you can stuff the bags with tissue paper and treats (here is what I had laying around at home – yummy). Isn't this a super cute way to create some treat bags for Halloween? Easy and fast and thus, perfect for mass production 😉 Thanks for stopping by.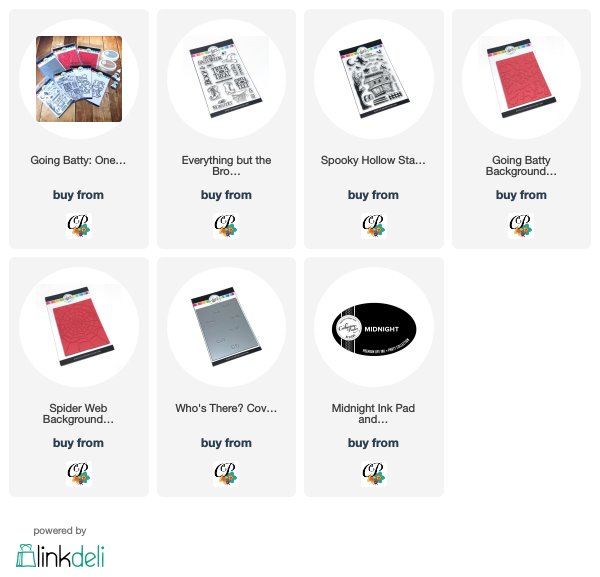 SaveSave
SaveSave