Happy 2018, my friends!  I'm excited to be a part of the Seasons Giving Blog Hop hosted by Latisha Yoast.  This is a great time for me to say thank you so much for your support this year…it's been an incredible one!
PRIZE ALERT:  Every blog on this hop has a prize (scroll down to see mine), so be sure to enter to win…lots of free goodies to start this year out right!
Here is a look back at some of our favorite projects this year.
I made this card and video tutorial right at the time when we released our ink line, so it's kinda special to me…I was SO EXCITED to finally share this amazing ink and all these incredible colors with you guys!
Click here to view the video and blog post.
You all are mad for plaid!  In this video tutorial, I showed you how to stamp the Peppermint Background Stamp, then turn it and stamp it again and the crowd went wild!  lol!
I did, too…I love this technique!
This peacock had me swooning in 2017!  This was the premier stamp set our illustrator, Lisa Kirkbride and it came out in our Spring Stamp of Approval Collection.
Here is the original blog post.
This card is on display in our office because it was one of the first cards I made IN our office (affectionately nicknamed "The Clubhouse").  Click here for the post.
Melon Ice is one of my favorite colors and it looks so perfect on this card!  I used a variety of Hellos from our Hello World Stamp Set, mounted them all at the same time, inked in Melon Ice, then stamped my background.  Teamed up with a floral and a pineapple, and you have a great all occasion card!
Click here for the blog post and video tutorial.
This card was SO FUN to make!  Hop over to this post to see all the details and the link to the Facebook Live where I made it.
Thanks for taking a quick walk down memory lane with me!  You all mean the world to me, thank you for being here!
If you are new here, please subscribe to our newsletter.
We'll welcome you to the family and keep you up to date on our shenanigans!
WIN CP DESIGNS INK, CARDSTOCK AND ROUND GRID BLOCK:
Here are the prize goodies…a set of the Life of the Party Inks, our brand new Clear Round Blocks and a pack of our fabulous note cards!
To enter just leave a comment on this post! Winner will be announced on Saturday, January 6th!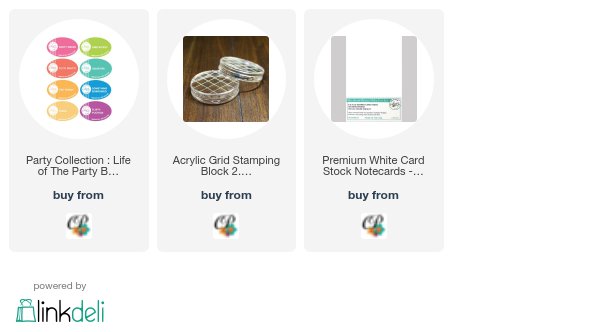 If you are new to our inks, here is a video showing how they are different and pretty amazing 🙂 
BLOG HOP LIST!
Here is the long and amazing list of blogs in today's hop.  Grab a cuppa and get ready for some love and inspiration from these companies and bloggers:
Catherine Pooler. – YOU ARE HERE
Indigojade Art – go here next!
Sean Fetterman
Marcie Sharp